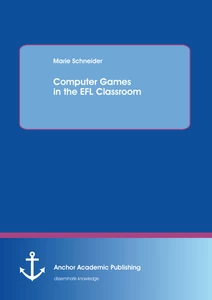 Computer Games in the EFL Classroom
Academic Paper 2013 122 Pages
Summary
Fact is that commercial computer games play an extensive role in young people's lives, today. According to a recent study, 62 % of German teenagers play computer games at least once a week. This development led many researchers, school leaders and teachers to the question in how far games can be used to engage young people and support their learning inside the classroom.
These considerations have been supported by various studies, showing that computer games can enhance various cognitive skills such as the ability of concentration, stamina, tactical aptness, anticipatory thinking, orientation in virtual spaces, and deductive reasoning. Since then, few research projects have launched which examine digital game based learning (i.e. the learning with the help of computer games), both on a theoretical and empirical level.
This study approaches the subject of digital game based learning in the EFL classroom from three different angles:
Firstly, a scientific perspective will be adopted. The principles of the design and construction of games and game worlds will be examined.
Secondly, the subject of the psychological effects of games on the player will be broached.
Thirdly and as the main point, the didactic potential of computer games will be explored in detail. The author presents ways of integrating games into teaching units, and further, the abilities and competences that can be enhanced by the use of digital games. Moreover, particular challenges and problems will be identified that arise when the use of a digital game in class is planned.
Details
Pages

122

Type of Edition

Originalausgabe

Year

2013

ISBN (eBook)

9783954895687

ISBN (Book)

9783954890682

File size

1 MB

Language

English

Catalog Number

v287365

Grade

Tags