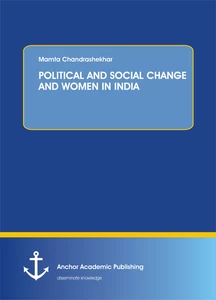 POLITICAL AND SOCIAL CHANGE AND WOMEN IN INDIA
Textbook 2016 148 Pages
Summary
The role of women in India has changed significantly over the past few years. Globalization, urbanization, industrialization and privatization all played an important role in this development.
After India became independent, several provisions for women were added to the Constitution of India, which is now one of the most rights-based constitutions in the world. Drafted around the same time as the Universal Declaration of Human Rights- UNO (1948), the Indian Constitution captures the essence of human rights in its Preamble, and elaborates these rights further in the sections on Fundamental Rights and on the Directive Principles of State Policy. The protection of women's rights and the enhancement of their social and economic possibilities have become important political issues.
Due to these socio- political changes, women have already gotten the opportunity to take important offices in India, including that of president, prime minister, speaker of the Lok Sabha and leader of the opposition. With the 73rd Constitutional Amendment Act from 1992 and the 74th Constitutional Amendment Act from 1993, women are furthermore empowered in local level government bodies. Apart from the political changes, women in India now also participate in all social activities and take part in sports, media, art and culture, science and technology.
This book takes a look at every aspect of a woman's life, such as education, marriage, family and health, in order to give a thorough and accurate account of the role of women in today's India.
Details
Pages

148

Type of Edition

Erstausgabe

Year

2016

ISBN (eBook)

9783960675150

ISBN (Book)

9783960670155

File size

1.1 MB

Language

English

Catalog Number

v316571

Institution / College

Mata Jijabai Govt. Girls' P. G. College

Grade

Tags