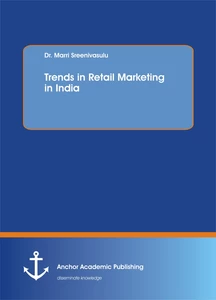 Trends in Retail Marketing in India
Textbook 2017 381 Pages
Summary
Retail is the sale of goods to end users, not for resale, but for use and consumption by the purchaser. This excludes direct interface between the manufacturers and institutional buyers such as the government and other bulk customers. Retailing is the last link that connects the individual consumers with the manufacturing and distribution chain.
Retail is the fastest growing sector in the Indian economy. Traditional markets are making way for new formats, such as departmental stores, hypermarkets, supermarkets and specialty stores. Western style malls have begun appearing in metros and second-rung cities alike, introducing the Indian consumer to an unparalleled shopping experience.
This comparative study focuses on the costumers of Reliance Mart and Big Bazaar with regard to their buying tactics, shopping behavior, expectations, perceptions, satisfaction and brand loyalty.

Details
Pages

381

Type of Edition

Erstausgabe

Year

2017

ISBN (eBook)

9783960676737

ISBN (Book)

9783960671732

File size

69.9 MB

Language

English

Catalog Number

v371915

Grade

Tags